Bamberg and Franconia
by John Conen
---
Last Updated Nov. 2010
I am pleased to announce the publication of the second edition of my book. It has been completely revised and redesigned, and has new photographs and illustrations. The new book tells you everything you need to know about this region, whereas these web pages provide a "whistle stop" tour to give you a flavour of the beery delights and tempt you to order a copy!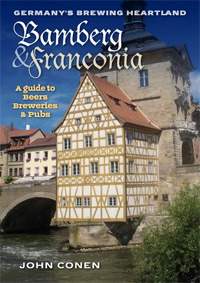 Bamberg and Franconia: Germany's Brewing Heartland. A guide to beers, breweries and pubs. Second edition, June 2010 by JOHN CONEN is available from CAMRA Books (CAMRA Website) Item Number: BAMFRAN, price £9.99 (£7.99 CAMRA Members), Euros 12.99 plus postage and packing, or from the tourist office and bookshops in Bamberg itself. 96 pages plus colour photographs. ISBN 978-0- 9544426-3-7
The attractions of the "beer city" of Bamberg are its nine breweries, which produce over 50 distinctive, full-flavoured beers (including of course smoke beer), characterful pubs and an enthusiastic, dedicated local following for the beer. Bambergers love their beer and the popularity of the traditional taverns or "Gaststätte" testifies to this, as does the mass exodus to the beer gardens (Kellers) in fine weather.

Bamberg is a historic city that was left virtually unscathed by World War 2, and contains many fine old buildings. The tourist office can be found at www.bamberg.info.
---
THE FRANCONIAN BREWING TRADITION

Bamberg lies in the heart of Franconia, a region in the north of Bavaria that still boasts nearly three hundred breweries, many of which are concentrated in the river valleys around Bamberg. This is where ancient brewing traditions survive, with a pub and brewery business often combined with farming and other activities, although as in Britain breweries are under threat. Over 60 breweries have closed in the last decade.

Local Beers

In Franconia the standard German offering of draught Export or Pils is usually replaced by one or more of the traditional beers produced by local brewers:
1. Vollbier, can vary from light gold to almost black in colour. Malty with a dry finish, it bears no resemblance to mass-produced lagers found in the UK.
2. "Ungespundet" Lagerbier or Kellerbier, often brewed as an alternative to vollbier. It is unfiltered and is often dispensed straight from the barrel into stone mugs in Franconia's beergardens (Keller). With a low CO2 content, it is less malty and more hoppy than Vollbier.
3. Bockbier. Bockbier is a seasonal beer, similar to Vollbier, but significantly stronger. The Bamberg Bockbiers appear around Mid-October and lasts until Christmas.
4. Pils. Don't expect the local versions, fine as they are, to match the characteristic dryish, hoppy flavour of North German and Czech pilseners.
5. Weissbier/Weizenbier (wheat beer), from Southern Bavaria is finding its way into the portfolios of many breweries in Franconia. Top-fermented, it's usually available in bottles rather than on draught, unfiltered and sedimented.
6. Rauchbier (smoke beer), is a speciality of the Bamberg area, its characteristic taste is achieved by kilning the malt over a beechwood fire.
7. Märzen. The name derives from the month of March (März in German), the last opportunity to brew beer before the hot summer weather set in and made the brewing process risky. In Franconia the Festbiers, stronger than average beer brewed for Christmas or other church festivals, are Märzen-type beers but the term is also used for a stronger than average beer which is available at all times e.g. Schlenkerla Rauchbier.
8. Schwarzbier (Black beer). Bamberg always had its own "little black beer" in Klosterbräu's Schwärzla, but "black" beer is becoming popular nationally and others are now following the style. The darkest malts are used but the beer is dark brown rather than black!
Other beers will be found which do not fall into the above categories; they often represent attempts to resurrect beer styles of the nineteen twenties or earlier, before paler coloured beers began to predominate. Names such as Bauernbier (Farmers' beer), Landbier (Country beer), Braunbier (Brown beer) and Alt Fränkisch (Old Franconian) are used to lend authenticity.

Other information on drinking in Bamberg and Franconia.
Dispense of draught beer. The local brews are of the bottom-fermenting, lager type and are filtered at the brewery and sent out ready to serve. A variety of dispense systems is used, but it is often possible to find beer dispensed straight from the barrel, particularly at the Kellers or beergardens.
Measures. A half litre (Seidla) is the usual measure in Bamberg and Franconia - ceramic mugs are used in the Kellers and the beergardens, where they help to keep beer cool in hot weather. .
Opening hours Most traditional pubs tend to open and close early, whereas young people's pubs and music bars do not open until early evening and stay open until the early hours. Many pubs have a Ruhetag or rest day and some close for an annual holiday, or for religious holidays. Check before making a special journey!
Some other information about the region can be found on the following website:
Bier-keller.de

---
THE FRANCONIAN BREWERY MUSEUM
Michaelsberg - location of the brewery museum.

The Franconian Brewery Museum was set up by a group of professional brewers in 1984 "out of love for the brewing tradition". It occupies the renovated historical vaults of the former Benedictine Abbey on the Michaelsberg in Bamberg, where brewing was taking place as early as 1122. Besides historical equipment acquired from local breweries, maltings and equipment manufacturers, there are displays covering the whole of the malting and brewing processes.
Open April to End October, 1pm to 4pm Thursday to Sundays. Parties by appointment at other times, English-speaking guides can be arranged. Telephone Bamberg 53016.
---
BAMBERG'S BREWERIES AND THEIR TAPS
---
AMBRÄUSIANUM
---
Dominikanerstrasse 10, 96049 Bamberg, Tel 0951/5090262.
Beers: Hell, Dunkel, Hefeweizen.(draught only).
New brew-pub opened in August 2004 in the Haus Mahr, the former Alte Hofreit restaurant, next to the Schlenkerla, whose beer it also sells.
Open 11am to Midnight. Closed Mondays
The Ambräusianum brewpub also has its own Website.



---
FÄSSLA
---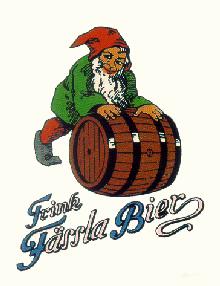 Ob. Königstrasse 19/21, 96052 Bamberg. Tel. 26516, FAX 201989.
Beers: Lagerbier, Gold-Pils, Zwergla, Festbier, Weizla, Bambergator.
Brauerei Fässla and its "dwarf" trademark date back to 1649, after the end of the Thirty Years' War. An imposing building houses an excellent family-run brewery guesthouse with good value overnight accommodation. Lively, traditional atmosphere. Open 9am to 11pm, closes Sundays at 1pm. Fässla has recently taken over the former Maisel brewery tap at Moosstrasse 32 which now operates as the Fässla-Keller.













---
GREIFENKLAU
---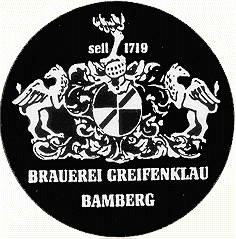 Photo of the Greifenklau beer garden.

Laurenziplatz 20, 96049 Bamberg. Tel 53219, FAX 59599. Founded 1719, owned by the Brockard family since 1914. Beers: Lagerbier, Bock.
Brauerei Greifenklau Bamberg's smallest brewery, taking its name from the Count von Greiffenclau, who founded the brewery in 1719. A lovely old tavern, with a very popular, shady beer garden with an excellent view across a wooded valley to the picturesque Altenburg castle. Greifenklau also runs the nearby Hotel Altenburgblick (tel. 95310). Open 9am to 11pm, closes 2pm Sundays.








---
KAISERDOM
---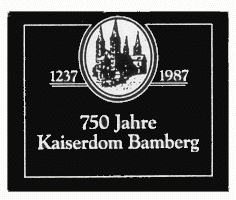 Breitäckerstrasse 9, 96049 Bamberg Tel 60450, FAX 604560. Owned by the Wörner family since 1718. Beers: Extra-Dry Pils, Alt-Bamberg Dunkel, Rauchbier, Hefeweissbier, and others.
Kaiserdom Owned by the Wörner family since 1718, this is the largest brewery in Bamberg, brewing in a modern plant situated behind the old brewery buildings of Burgerbräu in the suburb of Gaustadt. Kaiserdom projects a much more modern image than the other Bamberg breweries. Near the brewery is the KAISERDOM-BRAUEREIGASTHOF & HOTEL, upmarket and modernised with an emphasis on food, with a decent sized garden. Closed Mondays.









---
KEESMAN
---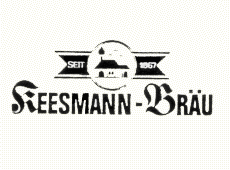 Wunderburg 5, 96050 Bamberg . Tel.26646 FAX 28486 In the Keesman family since its foundation in 1867. Beers: Herren-Pils, Helles, Weissbier, Bock, Sternla (new unfiltered Lagerbier).
Keesman is a brew-pub with a dedicated local following, traditional atmosphere and light, airy rooms. Beer garden in the courtyard. Closed Saturdays from 3pm and on Sundays.







---
KLOSTERBRÄU
---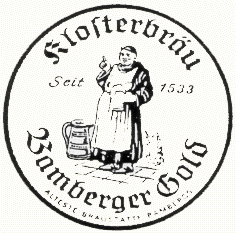 Photo of the Klosterbrau Brewery.

Ob. Mühlbrücke 3, 96049 Bamberg. Tel. 52265 FAX 500274 Founded 1533, in the Braun family since 1852. Beers: Bamberger Gold Pils, Schwärzla, Braunbier, Lagerbier, Bock, Braun's Weisse.
Klosterbräu has been brewing for over 450 years in its picturesque riverside brewery, although the traditionally styled Gaststätte is a recent addition. Three or four beers including Pils and Schwärzla are on draught.








---
MAHR'S BRÄU
---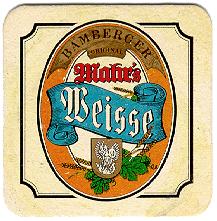 Wunderburg 10, 96050 Bamberg. Tel 915170, FAX 9151730 Founded in 1670 and owned by the Michel family since 1880. Beers: Helles, Pils, Ungespundete Lagerbier, Gig, Bockbier, Mahrs-Weisse, Weisse Bock
Mahr's Bräu Founded 1670, a superb brewery tap with two traditional rooms, one of which is particularly atmospheric with its low ceilings, tiled stove and beers served direct from wooden barrels. The courtyard becomes a beer garden in fine weather and is shaded by ancient chestnut trees.











---
MAISEL
---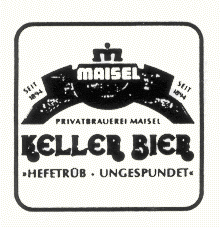 The Maisel brewery ceased brewing in 2008. Its traditional brewery stands in a prominent position near the railway line to Nürnberg is to be converted to apartments. Its former outlets include the BAMBERGER WEISSBIERHAUS Ob. Königstrasse 38, a traditional style Bamberg pub, with a quaint courtyard, a skittle alley and accommodation (tel 25503). Closed Sundays; ZUM STERNLA, Langestrasse 46, is Bamberg's oldest pub, dating back to 1380, traditional style with a courtyard for fine weather drinking. Whilst the MICHAELSBERG-BENEDIKTINERBRÄU Gaststätte next to the brewery museum is now an Italian restaurant, the CAFÉ-RESTAURANT MICHAELSBERG behind the church has a good selection of draught beers.









---
SCHLENKERLA HELLER-BRÄU
---
Photo of the Schlenkerla.

Dominikanerstrasse 6, 96049 Bamberg Tel. 56060 FAX 54019 Founded 1678. The owner is German Trum. Beers: Aecht Schlenkerla Rauchbier, Urbock, Helles Lagerbier, Weissbier.
Brauerei Heller. Schlenkerla Rauchbier is the most famous of Bamberg's beers, and at the historic brewery tap in the heart of the old city, this exceptionally dark and smoky beer is served direct from the wood. Two traditional rooms, one with low ceilings and tiled stove, the other with ecclesiastical vaulting, plus a central corridor with a kiosk selling takeouts and souvenirs. Immensely popular and always crowded, but retains its traditional ambience despite being first port of call on the tourist circuit. Open 9.30am to 11pm. The actual brewery is situated on the Stephansberg (no pub on the site).






---
ZUM SPEZIAL
---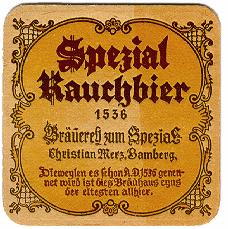 Ob. Konigstrasse 10, 96052 Bamberg. Tel 24304, FAX 26330. First recorded in 1536, owned by the Merz family since 1898. Beers (Rauchbier): Lagerbier, Märzen, Weizen, Bock (seasonal), Ungespundetes Lagerbier is a new beer for Spring and Autumn - it is not a Rauchbier.
The Spezial was founded in 1536. This brewery-guesthouse is indeed special but the name probably derives from "Spezeln" a local dialect word for a gathering of friends.. A wonderful old building with half timbering and windowboxes full of geraniums, one of the classic pubs of Bamberg. Traditional atmosphere. Open 9am to 10pm, closes 2pm on Saturdays. Good value accommodation.









OTHER RECOMMENDED BAMBERG PUBS
ALT-RINGLEIN
Dominikanerstr 9. This Hotel was formerly a brewery, founded 1545. Mahrs Helles and Ungespundete, and Schlenkerla on draught. Open 0900 to 0100.

BUGER HOF
Am Regnitzufer 1 Pleasant old pub with a large modern extension out at Bug, about two miles from Bamberg city centre, reached by bus 18 or an attractive riverside walk. Beers from the Schlossbrauerei in Reckendorf can be drunk on the outside terrace. Accommodation (Tel. 56054). Closed Mondays.

CAFÉ ABSEITS
Pödeldorfer Str. 39 Hardly traditional, but notable for promoting a range of local and regional beers with monthly guests. Own Website. There are usually four draught beers plus a guest and over 30 different bottles. The menu makes a special feature of breakfasts and also encompasses pasta, Tex-Mex and more traditional local fare. Open 0900 to midnight every day, beer garden open in summer months until 2300.

ENGLISCHER GARTEN "ZUM BOCKSER"
Schweinfurter Str. 1 The garden is a raised terrace behind the pub, which also has a nice traditional bar. This sold Maisel beer but the current beer selection unknown. Open 1130-1330 and 1530-2300, closed Tuesdays.

EULENSPIEGEL
Obere Brücke 10 Named after the jester in the mediaeval German legend. Right on the tourist route over the upper bridge, there is outside seating café-style and a long narrow bar. Open until the early hours, this is relatively pricey, but in contrast to other nearby bars, a relatively peaceful place for a late night beer. St.Georgen Pils, Landbier and Kellerbier, plus Schlenkerla Rauchbier are on draught.

GRIESGARTEN
Untere Sandstrasse 19 Very good traditional atmosphere in this pub in the old city, large and pleasant garden at the rear. Own Website. The beers - Krug Bauernbier and Pils are now believed to be contract brewed.

KACHELOFEN
Obere Sandstrasse 1 Taking its name from the tiled stove, a common feature in traditional pubs, this pleasant Bierstübe is notable for its charming interior and its hearty Franconian cuisine. It sells St.Georgen Pils and Kellerbier plus Schlenkerla Rauchbier. In fine weather, seats outside enable you to sit and watch the world go by in the heart of the old city. Open1000 to 0100.

PELIKAN
Untere Sandstrasse 45 Lively pub with a variety of beers and Thai cuisine. Open 1700 until late.

STÖHRENKELLER
Obere Stephansberg 11 Attractive old building, once a brewery. After a spell as an expensive restaurant, it's now a promising pub. Dörfleins Lager and Keesmann Pils. Open 1900 until 0100, 0200 Sats. Closed Sundays.

WEINSTUBE PIZZINI
Obere Sandstrasse 17 A pub of great character; a good atmosphere enhanced by wood panelling and high-backed settles. A good range of draught beers, which changes from time to time: Andechs Dunkel, Fässla Pils, Spezial Rauchbier, and Guinness. Open from 8pm until late; closed Sundays.

RECOMMENDED KELLERS AND GARDENS
In Franconia the term Bierkeller or Sommerkeller causes confusion to foreign or North German visitors. It is used not to describe a cellar bar under a pub, but the beer gardens that open on the hills outside towns in the summer months. It originates from the time when beer was brewed in the winter months and stored or lagered in cool cellar caves in the hills for summer consumption. Establishment of a pub with a tree-shaded garden to serve beer at the Keller was a natural development. At most Kellers you can bring your own food, and an early evening picnic at a Bierkeller is a popular outing for Franconian families. The following are some of Bamberg's most original and attractive Kellers and gardens. Generally they are open from May to October in fine weather only.

BOOTSHAUS
Mühlworth 18a Part of a functioning boathouse used by rowers on the river Regnitz. A marvellous riverside setting with views. Opens 1100 to 0100 in fine weather. Beer from Kraus of Hirschaid is an added attraction.

MAHRS KELLER
Ob. Stephansberg 36 Attractive old building with a small, pleasant, tree-shaded garden. Mahrs Pils, Gig and Weisse. Garden open 4 to 10pm, the pub from 5pm to midnight.

SPEZIAL-KELLER
Sternwartstrasse Spezial Rauchbier from the wooden barrel complements a superb view of the city in this 800-seat garden. The entrance is just off the Stephansberg by the Schlenkerla brewery. Opens 3pm daily (10am Sundays and holidays), closed Mondays.

WILDE ROSE BRÄU KELLER
Ob. Stephansberg 49 Self-service, deposit on mugs. The beer - draught Kellerbier and Weissbier is specially brewed for this Keller and its parent pub. Open from 4pm, (3pm Sats and Suns).

---
COPYRIGHT © JOHN CONEN 2010.
---

For further information the author may be contacted using the following e-mail link.
For a guide to all Franconia's breweries see: www.bierregion-franken.info