Saarland, (Homburg to Losheim)
---
Saarland Introduction
Saarland covers an area of 2570 km2 with only 1.08 million inhabitants and as can be seen from the map is a small elephant shaped province covering the west of Germany along the French border up to Luxembourg. Until 150 years ago Saarland did not even exist as the region was shared by Prussia, Bavaria and Oldenburg. With a heavy industrial past, much of the landscape is dominated by old mines, steel works and power stations still belching out smoke today. Perhaps this is why the area is relatively untouched by tourism except for Saarbrücken which occupies an important location on the French border and has a more international flavour. The brewing scene is almost totally dominated by Karlsberg of Homburg which has taken over most of the remaining medium sized breweries including recently the Saarfürst brewery in Merzig. Only the Parkbrauerei in Pirmasens remains as a larger concern. Nevertheless a few enterprising new brewpubs have appeared over the last years, one even occupying an old steel works, and there remains the classic Stiefel pub in Saarbrücken which should not be missed.
---
Homburg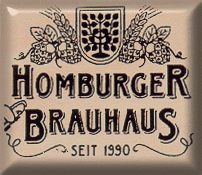 The Homburger Brauhaus established in 1990 is centrally located on the top floor of the Saar-Pfalz shopping center at Talstrasse 38, Tel: 06841 2466, Fax: 06841 64808. Open from 9:00 to 01:00 every day except Sunday when they open at 17:00, the brewpub serves Wirtsbräu Hell, Dunkel and Weizen all year round with some seasonal beers including a spring Märzen and Bock from the end of November. Served in 0.3 liter glasses the Hell is cloudy with a big head, hoppy aroma and is quite bitter. The Dunkel is correct for the style although not exceptional and is dark, cloudy also with a big head and a slightly malty aroma and taste. The Bock has a more chocolate malt aroma with a sweeter start but a bitter aftertaste and is less harmonic than the other beers. The food is reasonably priced and there is often live music on Friday evenings.
See also the Internet Site for the city of Homburg in German.




Photo of Homburger Brauhaus


---
Neunkirchen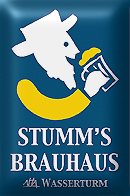 Further north-west is the town of Neunkirchen where a new brewpub has established itself since 1996 in a disused steelworks opposite a riding school. Although far from an architectural beauty the site is extremely unusual and also incorporates a cinema. The Stumms Brauhaus can be found in the Saarbrücker strasse 16, Tel: 06821 179145, Fax: 06821 179144 and they serve Turm Gold and Turm Black beers all year round with seasonal beers such as Erntebier (Harvestbeer), Märzen, Maibock and Bock for limited periods. The Turm Gold is a slightly cloudy rather shandy like average Pils without the bitterness and the Turm Black is clearer although also has the shandy like taste. The beers were all served at a good temperature, going against the icy trend found more and more today. Food specialities include a Pork and Beer sauce menu. Seasonal beers were not available for the tasting.






Photo of Brauhaus


---
Dudweiler

North of Saarbrücken in the suburb of Dudweiler the small Sudhaus brewery can be found in the Sudstraße 7, 66125 Saarbrücken-Dudweiler, Tel: 06897 768 738.
Open in the evenings from Tuesday to Sunday from 17:30 until the last guest leaves apparently !. Closed Mondays
Beers available year round include a Hell and Dunkel both 4.6% Alc. Seasonal beers include: Caramel 5.0% Alc. made with a mixture of Pilsner and caramel malt, Bock 6.0% Alc. available from October to December, Weizen 5.5% Alc. in Summer and another seasonal named Irish-Beer 4.8% Alc.






---
Saarbrücken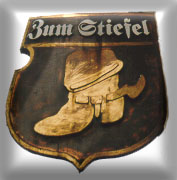 The capitol city of Saarland Saarbrücken is naturally sited by the river Saar on the French border in the south-west corner of Saarland. Not particularly motorist friendly it is best to find one of the central parkhouses and walk to the old city where a particularly fine brewpub awaits. The Brauereigasthof Zum Stiefel is located at the St Johanner Markt, Tel:0681 936450 and started life as a brewery run by Daniel Bruch back in 1702. Now in the 8th generation the Bruch family moved the brewery to a new location in 1856 and after renovation the old pub was re-opened as a brewpub in 1990. It is possible to try a range of beers at the 'Stiefel' from their own, and the main Bruch breweries. The pub is full of tradition and style with friendly service and excellent Saarlandische food dishes, which naturally means that without table reservations it is very difficult to find a place to sit. The beer range includes: Hell Stiefel: 12% Stammwürze, 4.5% Alc. A smooth refreshing Pils type. Dunkel Stiefel: Again very smooth taste and a quickly emptied glass. Zwickelbock: Very dark with dry aftertaste, between an Alt beer and a Bock. Zwickelbier: A Munich style Weissbier (Wheat), lightly carbonated and very refreshing. Landbier 1702: From the main Bruch brewery, a dark beer with a slightly malty and metallic taste. Less interesting compared to the other beers. Open Mon-Sat 11:45-24:00 Closed on Sunday.
There was another brewery in Saarbrücken called Neufang which was widely available in the area and they produced a honey coloured 4.75% Alc Grafen Pils which was quite sweet and not at all like a classic Pils. They also made a 4.5% Alc Dunkel which had a smoky taste and was very smooth and drinkable.
Unfortunately the Neufang brewery went out of business in February 2002.

Photo of Zum Stiefel


---
Püttlingen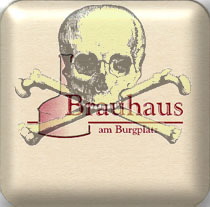 To the Northwest of Saarbrücken the unimposing town of Püttlingen hosts its own brewpub which forms part of a hotel complex in a new shopping area. The address for the Brauhaus Am Burgplatz is unsurprisingly Am Burgplatz 18, 66346 Püttlingen, Tel: 06898 69060-0 Fax: 06898 69060-50. Open mostly at lunchtime the brewery has its own Helles and Dunkles beers and has its own website which has very little information except to promise Ice Cold beer which does not seem very promising with respect to the knowledge of serving good beers. In fact the pub itself is quite pleasant inside and the service friendly which may have something to do with the fact that we were the only customers.
As for the beers, the Helles is very pale with a sharp aroma, bitter, slightly metallic, Lemon sharp, dry, unharmonic with sour notes. Evidently not in the best condition and we suspect a possible yeast infection.
The Dunkles has a dry aroma and a very dark ruby colour. The taste is slightly dry with an apparently powerful combination of malts, quite citric with a malty yet dry aftertaste. This beer was also unharmonic but better than the Helles. Both beers appear to be stronger than average. To clarify these points we tried to see the brewery and/or brewer but were told that it was not possible. All in all this is probably not the best address to sample good beer with so many other excellent breweries nearby.

Latest News: Stopped brewing but they were hoping to restart in 2015 but no sign of that happening by the end of 2019.

Exterior view of Brewery
Interior view of Brewery


---
Nalbach-Körprich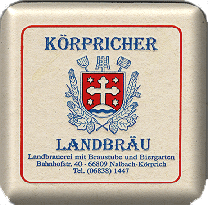 This tiny brewpub with its own website called the Körpricher Landbräu came to life at the end of 1997 and can be found in the Bahnhof Strasse 40, Tel: 06838 1447.Only open from 17:00 onwards!. Easily mistaken for another ordinary house in the street the pub is well worth a visit for its fine quality beers and friendly atmosphere. The brewery itself is a bit Heath-Robinson occupying a very small area and made up from recovered bits and pieces from other breweries and fermentation vessels from an old dairy. Nevertheless the brewer who studied at the same brewing school as the brewers of Andreas Bräu knows what he is doing and deserves your support by paying him a visit. Beers available include a Helles which is yeasty and refreshing and a Dunkel which is very smooth and creamy with a good full flavour and a lovely roast malt aftertaste. Probably the best dark beer in Saarland, the only small criticism would be that it is served too cold and needs to warm up a little before the character can be really appreciated. Simple snacks are available as well and it is worth having a look at some of the old clocks hanging on the walls.




Photo of the Körpricher Landbräu

---
Schmelz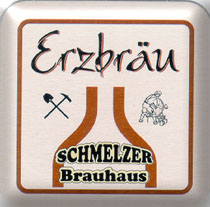 Above the town of Schmelz and to the East in a Spartan new industrial area one can find the Schmelzer Brauhaus.
The full address is Am Erzweg 12, 66839 Schmelz Tel: 06887 889109 Fax: 06887 889119 and the brewpub is open every day from 11:00 – 01:00.
The brewpubs own website is under construction but may be available by the time you read this.
Run by the families Dörr and Quinten the pub serves Helles and Dunkles beers as well as truly enormous portions of food.
The Helles, also known as Erzbräu is a clear amber beer brewed with apparently quite soft water, has a fruity aroma and is very lightly hopped, slightly sweet and refreshing. The Dunkles has a very mild fruit aroma and a sweetish malty smooth taste. Both beers are quite pleasant and worth a try if you are in the area especially if you have a large appetite.
Popular with bikers.




Exterior view of Brewery
Interior view of Brewery


---
Merzig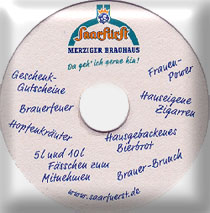 Established in 1864 the original Saarfürst brewery was taken over by Karlsberg in 1981 and eventually closed in 1987. Karlsberg have now re-opened the site as the Saarfürst Merziger Brauhaus and this can be found at the Merziger Yachthafen in Gottfried-von-Cramm-Weg 66663 Merzig, Tel: 06861 791635 - Fax: 06861 791656. Follow the Westerly direction over the bridge to the McDonalds. Open every day from 11:00 this is Karlsbergs attempt to cash in on the hausbrauerei market with a flashy and trendy replica. Interesting considering that Karlsberg was solely responsible for the demise of most of Saarlands older breweries. Lots of cash was evidently invested here. Nevertheless the beers are OK and the service is quite reasonable.
The brewery also has its own website and its own newspaper for further information.
The beers tasted include a pale amber Maibock which has a flowery nose and tastes fruity, light and slightly sweet. The beer is a little foamy on the palate has a dryish aftertaste and is generally pleasant and well rounded.
An 11% Stammwürze 4.8% ABV. Dunkles was also available which has a mild coffee aroma with a slightly malty but thin taste. Quite pleasant also but a very ordinary standard dunkles.
Beware of the mind numbing music !.




---
Besseringen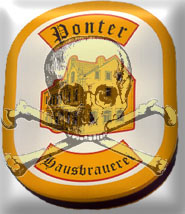 If you travel 15 to 20 minutes Northwards from Merzig following the East side of the river, you will arrive in Besseringen where on a parallel side street to the left opposite the station you can find the Ponter Hausbrauerei at Brückenstr 36, 66663 Merzig-Besseringen, Tel: 06861 2742.
This tiny brewpub, run by Jürgen Uder is claimed to be the smallest in Saarland and is only open from Tuesday to Friday from 16:00 and Saturday from 15:00. On Sunday the pub is open from 09:45 to 13:00 and then again from 17:00. Monday Closed.
Two 12% Stammwürze 5% ABV. beers are on tap here, a Helles and a Dunkles called Schwarzer Abt both served in attractive glasses. The Helles was served ice cold and it is necessary to wait at least 15 to 20 minutes whilst warming the glass in your hand before any aroma or taste becomes evident. Once slightly warmed the Helles has a hoppy aroma with citric notes and has a taste reminiscent of an English bitter. The length of time which it takes to warm sufficiently for aroma and taste to develop means that the beer unfortunately becomes quite flat at this point.
The Dunkles was also served ice cold, which is even more ridiculous for this beer style. Once warmed the beer has a chocolate malt nose but also becomes flat by the time it warms sufficiently. The Dunkles appears to be quite a nice beer if it had not been destroyed by such ignorant serving methods.



News 2018: Unfortunately now only a restaurant and no longer brews.




The Beer, Nice glasses


---
Mettlach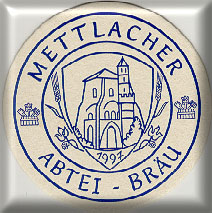 Mettlach is situated on a curve of the river Saar and is home to what is claimed to be the western most brewery in Germany. The town is also home to the porcelain manufacturer Villeroy and Boch which is located in the towns 250 year old Benedictine abbey from where the brewery gets its name. Also worth visiting is the Schloss Ziegelberg where its ceramic museum has a nice display of ancient Beer Steins.
The Mettlacher Abteibräu can be found in the Bahnhof strasse 32, 66693 Mettlach, Tel: 06864 93232, Fax: 06864 93235 and is open from 11:00 every day except Monday. Founded in 1997 by Karin and wolfgang Fell and Ursula and Michael Schorn this modern building comprises of two floors and a very smart shiny brewery which shows signs of some very serious investment. The brewer Norbert König produces a beer named Abtei Bräu which is copper coloured and although unfiltered is relatively clear and resembles very much a Munich style Märzen in taste. A 5.8% Alc Bock is also produced in November which is apparently made from organically grown ingredients and has a darker copper colour as well as being slightly sweeter than the Abtei beer. The Bock is more of a Maibock style and strength is noticeably lacking where 5.8% Alc is at the lower limit for this type of beer. They also organise a Bock beer festival at the beginning of November.




Photo of the Mettlacher Abteibräu
Map of Mettlach with brewery location


---
Losheim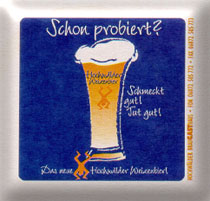 Travelling Northeast from Mettlach it is well worth paying a visit to the Hochwälder Braugasthaus, Zum Stausee 190, 66679 Losheim Tel: 06872 505772 Fax: 06872 505773. A little difficult to find as the brewpub is situated by the lake and not in town so make sure you follow the signs to the Stausee. Open from 11:00 every day the brewery is in a very nice setting overlooking the lake and comprises of a very modern open plan pub with interesting bottle chandeliers as well as a very large beergarden. The large brewery itself is under the main building and contains spotlessly clean enclosed stainless steel fermentation vessels.
Brewer Johannes Ruckert is justifiably proud of his beers which include:
An 11% Stammwürze 4.5% ABV. Helles which is a light drinking fruity beer with a good Hallertau hop aroma and is particularly thirst quenching and pleasant. Also available is a 12% Stammwürze 5% ABV. Dunkles called Donatus which is quite lively, more malty and foams in the mouth. This beer has very good consistency and is also pleasant and thirst quenching. Also available is a 12.5% Stammwürze 5.5% ABV. Weizen, which has a pleasant pear drop nose with a trace of coffee. Darker than the average Weizen this beer is fresh, fruity and lightly hopped with a slightly dry tail end.
All the beers are served in original shaped glasses and a good menu is on hand to satisfy most hunger requirements, in particular the Flammkuchen are recommended.
Some limited further details can be found on the breweries own website.

Exterior view of Brewery
Interior view of Brewery
The Beergarden, Nice view over the lake


---
---