Baden Württemberg, (Weinheim to Zeutern)
---
Baden Württemberg Introduction
The province of Baden Württemberg was founded in 1952 and covers an area of 35,754 km2 with around 10.5 million inhabitants comprising of 5.1 million men and 5.3 million women of whom 1.1 million are foreigners. It is the third largest of Germanys 16 Bundesländer with 1023 km of motorways, 4972 km of main roads and over 22,000 km of other roads. The population owns 5.5 million cars and the average net monthly income in 2013 was € 1542,-.
Baden Württembergs emblem is a golden shield containing three black lions with red tongues held up by a deer and a mythical creature.
You can discover the delights of over 27 regional breweries and brewpubs in this guide section for Baden Württemberg which have been picked for their beer quality and choice of beer styles.
Return to the Main Menu for detailed maps and lists of the areas covered or just start reading below for the first part of the Baden Württemberg section.
---
Weinheim.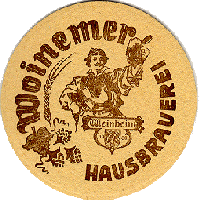 Beer quality is still excellent although the food quality appears to have declined somewhat. The Christmas Bock is very special, and for those who may remember the original English Theakstons Old Peculier from Masham in Yorkshire before it was watered down you will find that this Bock will bring back fond memories. The original brewery owner Ralf Bohrer has now opened a new brewpub in Giessen (Hessen).

From Heidelberg to the north is the forested hilly area known as the Odenwald where a number of pleasant walks can be made which are less crowded than those in the Black Forest to the south. Walking guides are available from shops in Heidelberg. The pleasant town of Weinheim is situated at the edge of the Odenwald and despite the towns name has an excellent brewery started in 1987 by Ralf Bohrer called "Woinemer" Friedrich strasse 23, Tel: 06201 12001 Fax: 06201 15870. Difficult to find the first time this brewpub features a fine restaurant, cellar bar for groups and a small covered beer garden. Both beer and food are of the highest quality with Helles and Dunkles on tap year round plus practically every speciality beer being brewed at one time or another. Märzen, WeizenBock and WeinachtsBock are especially worth looking out for at this truly first class establishment best visited between Autumn and Spring as during the summer months only a light summer beer is available as a speciality. The brewery also produces its own Bi Annual newspaper (Now discontinued !) with local news and a calendar with the exact dates of the "Anstich" (First tasting) of each speciality beer. The brewery also specialises in distilling spirits called Bierbrand from their beer range. 25 to 30 litres of beer produces one litre of 45% spirit and the range available here includes normal Bierbrand, St Laurentius Doppelbockbrand and Weizenbrand.
The brewery has its own Website and is open between 11:00 and 24:00 Monday to Saturday and from 10:00 to 23:00 on Sundays.
Details of the beers and seasonal availabilty are as follows:
Woinemer Hell. (Tettnang Hops, 12.6 % Stammwürze, 4.9 Vol. % Alcohol)
Woinemer Dunkel. (13.2 % Stammwürze, 5.0 Vol. % Alcohol)
Woinemer Weizen. (12.8 % Stammwürze, 5.0 Vol. % Alcohol)
Woinemer Maximus Weizenbock. (16.5 % Stammwürze, 5.6 Vol. % Alcohol, Available January and February)
Woinemer Maibock. (16.5 % Stammwürze, 5.6 Vol. % Alcohol)
Woinemer Märzen. (13.8 % Stammwürze, 5.2 Vol. % Alcohol)
Woinemer Tillator doppelbock. (18.2 % Stammwürze, 6.3 Vol. % Alcohol)
Woinemer Red George. (A red Ale, Available February and March)
Woinemer Irish Black. (Dry Stout, Available February and March)
Woinemer Jubelbier. (Available April to May)
Woinemer Johanni. (Flavoured with Redcurrant, Available end of June)
Woinemer Oelsch. (Kölsch Style Beer, Available July and August)
Woinemer Kupfer. (Available September to October)
Woinemer Böckchen. (Available November)



Stammwürze Means the original strength of the brewing wort before fermentation.
---
Heidelberg.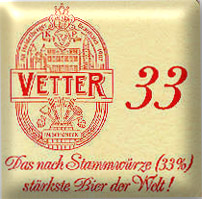 South from Weinheim is the Neckar Valley and the busy city of Heidelberg. From the northern side of the Neckar river one has a superb view of its imposing ruined castle and a short walk across the old bridge brings the visitor to the old town which has many old buildings spared by bombing during the last war. Most visitors take a guided tour of the castle and will hear about a dwarf named Hofnarr Perkeo who was a court jester and one of history's most prodigious drinkers (albeit wine!). The castle cellar contains the largest existing wine barrel in the world, built in 1751 it measures 27 feet long and 24 feet high with an astonishing capacity of 55345 gallons. Perkeo is said to have drunk 15 bottles a day from this supply until poisoning himself one day by accidentally drinking a glass of water. The old town is nearly always full of tourists especially during the summer months, so if you are lucky enough to find a place, sit down and relax at the Vetters brewery in Steingasse 9 - Im Schöneck 69117 Heidelberg, Tel: (06221) 165850, Fax.:(06221)165857. This was one of the first of the new microbreweries established in Germany in 1987 and from its dark interior you can sit at one of the long wooden tables and admire the copper vessels which surround you. They produce a fairly average Pils and occasional speciality beers such as Märzen and Bock which are well worth trying. Also normally available all year round is Vetters 33 which is reputed to be the strongest, or one of the strongest beers in the world. Served in small glasses this sweet dark brew is certainly strong and should be tried at all costs but will not be to everyone's taste. Due to the central location and the large number of tourists the bar is nearly always full and consequently beer quality does vary considerably.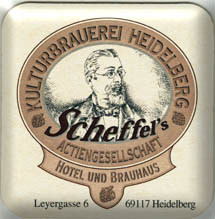 Another fairly recent addition to the brewpub scene in Heidelberg is the Kulturbrauerei in Leyergasse 6, Tel:06221 50298 Fax: 06221 5029879 which is actually owned and run by Dr. Friedrich-Georg Hoepfner of the larger Hoepfner brewery in Karlsruhe. Strangely (or not) this fact is not mentioned anywhere in the Kulturbrauerei itself and they would obviously prefer that people believe in their total independence. With the present popularity of small house breweries, more and more of the larger breweries in Germany are starting or investing in their own. My only concern is why they all try to hide their presence ?. As many readers will know there appear to be many independent breweries in Belgium which are in fact all owned by the largest brewery in the world Interbrew, who also do not advertise that fact.
The Kulturbrauerei itself is down one of the many small side streets leading down towards the river. Inside there is one large room with a good "beer hall" type atmosphere as well as smaller rooms to the side and on the first floor. Principal beers are Kräusen, Kellerbier and one changing speciality which is Weizen during the whole Summer. Beers can be served in attractive tall stone mugs or glasses, service is friendly and efficient and the food is of good quality and reasonable price. Both the Kräusen and Kellerbiers are refreshing and excellent with character and quality. It is also possible to stay in the attached Hotel where rooms cost between 100 and 180 Euro's. Not cheap, but about the going price for Heidelberg.
All in all, well worth a visit.



---
Hockenheim.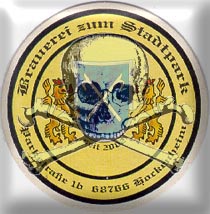 Opened in 2002 the Brauerei zum Stadtpark can be found in the Parkstrasse 1b, 68766 Hockenheim, Tel: 06205 283688, Fax: 06205 293689. Situated on the outside of a pleasant square which contains a church and small children's playground the brewpub itself is well laid out in an open plan style where you can see all that goes on around you. The brewpub is open from 16:30 on weekdays and from 11:00 on weekends. Service is efficient and friendly and the beers are well worth a try. Brewer Jochen Oehler produces a refreshing, unfiltered very pale Helles, which is not bitter and quite smooth in character with a mild fruitiness towards the end. Also available at the time of tasting was a slightly darker but still pale Märzen, quite similar to the Helles, where its individual character only comes out when the beer has warmed and has a slightly dry aftertaste. In some sense this beer only just has enough individual style to justify the name Märzen but it is very similar in taste to the traditional Bavarian style Märzen. Only in Bavaria this would be the main all year round beer in place of the Helles. A Helles + Dunkles or Märzen + Dunkles combination would give more variety for the brewpub. Both beers are very pleasant and especially served at a good temperature which is nice to see in these days of icy tasteless brews.
If you fancy a bite to eat try the Cheese plate (Käseplatte) with local Hockenheim cheese for additional pleasure as an accompaniment to the beers.
Other seasonal beers include Weizen, Schwärz and Bock. Brewery visits costing € 6.- are available on Tuesdays and brewery seminars are organised from 09:00 to 14:00 on Saturdays for € 25,-.
The Stadtpark has its own Website for up to date information about events, seasonal beers and a location map with directions.

This brewery is now dead !
---
Schwetzingen
Moving along to the west of Heidelberg is the town of Schwetzingen which has a glorious castle with colourful gardens and lakes to visit.
Alte Pfalz Pub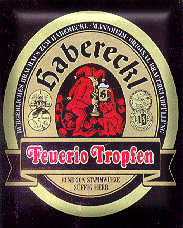 The secret for the beer drinker in Schwetzingen is not the towns Weldebrau which is widely available and uninspiring but a small bar in the main street called the Alte Pfalz in Mannheimer strasse 26, Tel: 06202 12299. The is one of a few very rare bars where a speciality beer call Feuerio Tropfen is available on draught. Brewed for the carnival time "Fasching" in February it comes from a Mannheim brewery called Habereckl which is actually owned now by the giant Binding brewery in Frankfurt. At 9% this is a strong brew but its wonderful aroma and taste should not be missed and unfortunately from past experience with other brewery take-overs it may not exist for much longer.
Latest News. As expected Binding decided to stop brewing Feuerio Tropfen. Another classic case of an exceptional beer being wiped out by a giant brewer who can't be bothered and is anyway probably incapable of brewing it to the same quality. The latest development is that the Eichbaum brewery has started to brew a lighter 6% alc. beer called Feuerio Prinzen Tropfen but the Binding-Group tried to stop them by law because the name had a similarity with Feuerio-Tropfen, even though they don't even make the beer anymore.
The bottled version of the original with the same label and a slightly lower alcohol content has been seen in supermarkets around Heidelberg and is still available during the carnival (Fasching) season..





Photo of Alte Pfalz

Brauhaus Zum Ritter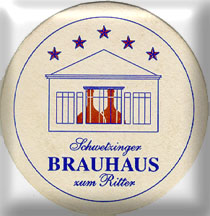 Just outside the main castle entrance at Schlossplatz Nr 1 is a brewpub called Zum Ritter, Tel: 06202 924950, Fax: 06202 924951 which was opened in July 1998. A brewery existed here in the 1830's as did the guesthouse Zum Ritter and it is good to see its revival. Open from 10 am to 1 am every day this is a very busy pub due to its situation and the large number of tourists who visit Schwetzingen. The two large main rooms plus a beer cellar can accommodate up to 400 guests with a further 320 places in the beergarden in summer. Even with this number of places the pub is often very full and service can be difficult at times.
Three beers Hell, Schwarz and Weizen are available at all times. A fourth changing special beer is also supposed to be available but this was not the case during our visit. The Hell is a 5 Vol. % Alc. 12.3% Stammwürze golden coloured beer with a slight Märzen character and little aroma which although quite drinkable has little special character. The Schwarz is also 5 Vol. % Alc 12.3% Stammwürze and is an extremely dark, almost black brew. Also with little aroma this beer has a distinct roast dark malt flavour and a dry aftertaste which is very much in the style of an Alt beer as found principally in "Düsseldorf". Well worth a visit especially in summer but perhaps not as rewarding as the Alte Pfalz (described above) if they happen to have Feurio Tropfen on tap.
Further details about Zum Ritter can be found on their own Website.




View of Zum Ritter brewpub

---
Leimen.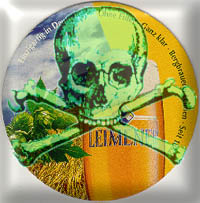 This brewery is now dead !
From Heidelberg it is a relatively short journey south to the town of Leimen which is famous for producing Germanys most famous tennis star Boris Becker. Leimen also hosts a less famous brewery called Bergbräu in Nusslocher strasse 1, Tel: 06224 72519 / 20 whose building is easily recognisable (For once!) from it's huge copper vessels behind large windows facing the street. Recently renovated the warm spacious interior is welcoming with tasteful designs on the wall of brewing traditions. Although an old well established brewery the beer is not well known outside the area and only the brewery tap which is open from 11:00 to 24:00 every day except Wednesday has the full range of beers available plus the chance to try your hand on one of the two bowling alleys available downstairs. The beers undergo a main fermentation of 8 to 10 days followed by a lagering time of 12 weeks. Bergbräu claims to have the only clear unfiltered beer in Germany produced by using centrifugal separators and whether this is true or not their export beer is very drinkable and the dark Ur-Bock which is only available on draught from the brewery tap must rate as one of the finest bock beers in the world. (Certified by many beer connoisseur friends).
Since the end of 1998 the beers are now also available for take-away at the brewery tap. Pressure tight bottles of 2 Litres capacity or more are available at the bar and you can also bring your own.
Already by Jan 2000 the Ur-Bock was difficult to find and the brewery introduced a Helles Maibock. Now we know that the writing was on the wall even then and the end was near. Baden Württemberg has lost one of its finest breweries as well as some of the finest beers of the region. !

Photo of the Bergbräu

The beer range available

Photographs from inside the brewery
A nice piece of polished copper!
Inside view of copper
Export beer happily fermenting away
The lagering cellar - Very Cold
Making their own ice in the 1920's - See Hörvelsingen for one of the last remaining breweries to still use this method
135 years anniversary celebration in the brewery

---
Mosbach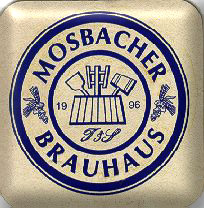 Mosbach is a lovely village on the Neckar and is worth a visit just to stroll around town and look at the traditional buildings. A new brewery opened in 1997 across from the station called the Brauhaus Mosbach and it is in the Eisenbahn strasse 18 which is reached by going through the underpass from town. Tel: 06261 36969, Fax: 06261 38595.
They serve the usual helles, dunkles and Weizen as well as a very good Maibock which in fact tastes more like a Dunkles Bock. The food was not very inspiring when visited but the beer is of a high standard for such a new brewery and it is well worth a visit. Open from 10:00 to 01:00.

Update 2019: Mosbacher Brauhaus website now shows no interest in beer, not even clear if they actually brew anything.





The brewpub with it's name on the bin !

---
Zuzenhausen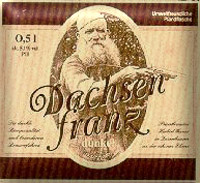 To the Southeast of Heidelberg it is worth paying a visit to the Dachsenfranz formerly called Adler Brauerei Gasthof, Hoffenheimer Str 1, 74939 Zuzenhausen, Tel: 06226 92070 Fax: 06226 920740.
This brewery has been run by 5 generations of the Werner family since 1832 and has a rustic although modernised interior. The waitresses wear traditional bavarian style dresses and are very friendly and helpful. Outside is a brewery shop for take-aways and occasional beer seminars are arranged. It is also part of the Flair Hotel chain and double rooms are available from € 80,-.
This is a first class eating establishment and complimenting the food are the following beer types:






Dachsenfranz dunkle (alc. 5.1% vol.) has a creamy head and is smooth with a subtle malty flavour.
Schulzkeidel Bock (alc. 6.6% vol.) is available in winter and tastes like a sweeter stronger version of the Dachsenfranz.
AdlerWirts KellerBier (alc. 5.2% vol.) is a lighter unfiltered refreshing beer.
Hefeweizen and Hefeschnaps are also available.
Location map for Zuzenhausen
Photo of the Brewery
The Bar
---
Sinsheim-Steinsfurt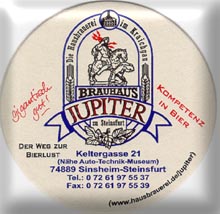 The Jupiter Brauhaus can be found in the village of Sinsheim-Steinsfurt at Keltergasse 21, Tel: 07261 975537, Fax: 07261 975539. This town is mostly known for its excellent Auto & Technik Museum Sinsheim where you can see Mika Hakkinens F1 car amongst many other interesting exhibits.
The brewery is not easy to find, so refer to their Website for a map and directions. There is not much else on the website for the moment. The brewpub is open from Monday - Saturday 11:00 - 23:00 and on Sundays and holidays from 10:00 - 01:00. The large interior is clean and well presented with an efficient and friendly service assured. Beers normally available year round are Hell, Dunkel and Weizen with occasional seasonal brews such as Christmas Bock. Unfortunately the Hell was off for this visit so no review. The Dunkel is served in a nice tapered glass and is a pleasant drink although slightly thin and lacking in maltiness compared to other breweries. The Weizen on the other hand is excellent with an almost extreme Banana aroma and taste. Very full bodied for this style and considerably less carbonated than is usually the case for a Weizen, this beer merits a visit on its own. A fairly complete menu with snacks compliments the beers nicely.





Photo of the brewery
---
Neckarsulm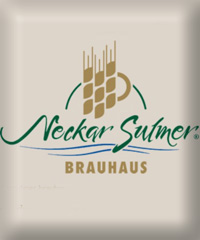 Worth a visit after a trip to the Auto & Technik Museum Sinsheim (See Sinsheim above), the Neckarsulmer Brauhaus can be found in the Felix-Wankel-Straße 9, 74172 Neckarsulm. Tel: 07132 3435 11. Open Monday to Thursday as well as Sundays and public holidays 11:00 to 24:00, Friday and Saturday open 1 hour longer until 01:00.
The brewpub has numerous rooms and 2 beergardens so can cater for up to 500 people and special events. The main rooms called Schwemme and Braustube have a good pub like character with plenty of wood fittings and views of the brewing coppers making for a pleasant ambience to enjoy a beer or two.
There is also plenty of food on the menu from simple snacks like Flammkuchen to larger meals. Service was quick and friendly during our visit.

Braumeister Karl Gruhler produces the following beers:
Roten Flitzer which has a burnt copper colour but lacks aroma and tastes rather thin with little or no hop character and just a hint of malt. Overall a refreshing beer but lacking body.
Dunkles Märzen, same burnt copper colour, also lacking aroma but has more body than the Roten Flitzer, more malt character with a smoother finish.
They also brew a Kellerpils and a Hefeweizen year round plus the following Seasonal beers, Wintertraum in December. Sulmator Doppelbock and a Maibock.



Neckarsulmer Märzen in a nice glass
---
Zeutern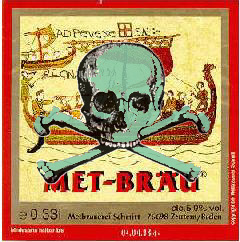 This brewery is now dead !
Between Bruchsal and Heidelberg, just south of Bad Schönborn lies the small town of Zeutern. In the industrial area to the east is the Met Bräu Haus, Industrie strasse 58. Tel: 07253 70181, Fax 07253 6425 run by Wolfgang Schmitt. Coming from a winegrowing family and having learned confectionery as a profession herr Schmitt knew about honey wine and decided to try his hand at making honey beer. The result is his Met bräu made from water, honey, malt and hops which has rapidly gained popularity and is now even brewed under license in Switzerland to keep up with the demand. He brews the Met bräu, Germanentrunk and a Pils in Zeutern which are available from the brewery guesthouse where one can also enjoy a hearty meal inside or outside by the pond with the ducks and geese.








---
---