Hessen, (Friedberg to Vellmar)
---
Friedberg.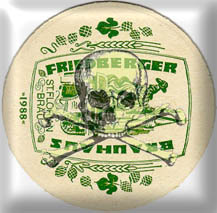 Travelling north from Frankfurt is the city of Friedberg. The Friedberger Brauhaus also called St Florian Bräu can be found in the Kaiserstrasse 37-39, 61169 Friedberg, Tel: 06031 6846012. This small brewpub founded in 1988 is cosy and relaxed with a small covered area in the street for outside drinking. Beers available are Helles, Dunkles and Weizen.
The Helles is a straw coloured Märzen style beer with a toffee nose which probably uses Crystal Malt. Very pleasant this sweetish brew is very similar to many Bavarian beers. The Dunkles is similar to the Helles except that it is made with Chocolate Malt and has a sweetish start but a drier finish. Both are excellent beers and well worth seeking out.
For a meal here try the 'Kasseler with Sauerkraut' which is a perfect accompaniment to both beers.
Only very limited information is available from the Friedberger Brauhaus website.

News 2015: Friedberger Brauhaus taken over in May 2015 and brewing has stopped.
Beer now comes from the Engel brewery in Haller Straße 29, 74564 Crailsheim.



Photo of the Friedberger Brauhaus
Photo of the interior


Schlüchtern.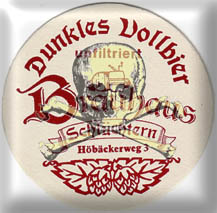 The brauhaus Schlüchtern is a particularly grim tasteless location (See photo below) and the interior is not much more exciting than the exterior. In addition the service is far from welcoming which may be due to the fact that the brewery is in the process of changing hands (May 2000). The only beers available were a slightly cloudy (unfiltered) Helles which was pleasant although undistinguished and a Dunkel which was slightly malty but very ordinary.
Hopefully the beers will improve but at the moment this place is not worth much of a detour.

News 2008. Brewing has stopped permanently.






Photo of Brauhaus Schlüchtern

Fulda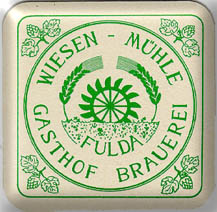 In total contrast to the brewery above, the Hotel Brauhaus Wiesenmühle is one of the most tasteful breweries in Hessen with an excellent choice of quality beers. Although very close to the centre of Fulda its location by the river is calm and the watermill actually works. The address is Wiesenmühlen Strasse 13, 36037 Fulda, Tel: 0661 928680, Fax: 0661 9286839. The only way to really appreciate the Wiesenmühle is to stay there and the accommodation is first class with the rooms at the back overlooking the watermill the calmest with the best view. The owner Wilfried Kenner has built 7 breweries in Germany and obviously knows his job. The pub area has many rooms in the Bavarian style and a very large beergarden (Watch out for the mosquito's!). Food is self service from an open buffet and is also Bavarian style with an excellent choice of grilled meats and sausages.
No less than 11 beer styles are represented here throughout the year and a list with dates concerning the availability of each beer can be obtained directly from the Brauhaus Wiesenmühle website.
Beers tasted were a pale copper coloured Märzen style unfiltered Helles which had a yeasty, malty nose, very lively in character, well hopped with a hint of lemonade. Highly drinkable.
The other beer available for tasting was a 16% Stammwürze mid copper coloured Maibock which had a slightly yeasty and very fruity nose with a full bodied fruity round taste and a smooth sweetish finish.
One can only emphasise the quality of the beer here and recommend a visit as soon as possible.

Photo 1 of Hotel Brauhaus Wiesenmühle

Photo 2 of Hotel Brauhaus Wiesenmühle
Inside the Brauhaus
Fermenting vessels in the brewery


Nidda.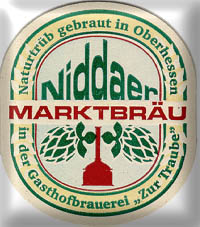 The Hotel and Gasthofbrauerei Zur Traube can be easily found in the centre of Nidda in the marketplace at Markt 21, 63667 Nidda, Tel: 06043 40470, Fax: 06043 404710. The hotel has existed for more than 150 years but a serious fire in 1996 reduced the building to ashes and this was the opportunity to rebuild the hotel with its own brewery. Officially opened in August 1998 the Zur Traube has become a focal point for the locals and offers good food and beer to enjoy both inside and especially outside sitting in the Marktplatz on a sunny day. Open from 11:00 to 14:30 and 17:00 to 00:00 Mon - Thu, 11:00 to 00:00 Fri - Sun, the Zur Traube offers seating for nearly 200 with an extra first floor room for up to 180 as well as 16 Hotel rooms. Brewer Markus Lotz uses ecologically friendly barley from Hessen and Tettnanger hops to brew his beers and also organises beer seminars and brewery visits.
Beers tasted were an unfiltered Helles which was pleasant although undistinguished, a mid-dark Dunkles which was lightly hopped, smooth and malty and a Mai-Beer which was similar to the dunkles although slightly more refreshing and fruity. With an alcohol content of only 5% the Mai beer cannot be called a Mai Bock and should not be confused with the latter.
Concerning speciality beers there should also be a Weihnachtsbock available at Christmas as well as a Fastenbier around carnival time.
One further novelty here is to be able to take a horse drawn trip around town where the wagon contains a beer dispenser and stone mugs (See photo below).
For further information see the Gasthofbrauerei Zur Traube website.

Photo of the Brewpub
Horse drawn beer tasting 1 !
Horse drawn beer tasting 2 !
Maibeer tasting


Gießen.
The Gasthausbrauerei Alt-Gießen was opened in 1998 by the former owner and brewer of the Wieinheim Woinemer brewery Ralf Bohrer and one can see the similarity in the beermat designs. The brewpub can be found in the Westanlage 30-32, 35390 Gießen, Tel: 0641 76600 Fax: 0641 72652. See the map below for directions. The pub has an interesting spacious interior layout and a decent beer range is available according to the season. From the beers tasted the brewery offers a pale Helles which was rather bitter and slightly metallic as well as a Dunkel which was smoother than the Helles but a bit thin with a malty taste which only comes through when the beer warms. Also on offer was a coppery coloured Maibock which was an excellent example of this style with a sweet then bitter aftertaste. The brewery also produces its own spirits distilled from their beer such as a 54% Alc. Hopfen-Feuer, a 43% Alc. Malz-Bierbrand, a 43% Alc. Hopfenkräuterbrand and a 43% Alc. Reiner Bierbrand. A varied menu is also available as well as Hefe Weizen beer in Summer.
The brewpub also has its own Website.

News 2015: Emphasis on beer has diminished recently with the inclusion of a giant plasma TV screen showing sporting events so plan your visit with care.


Photo of the Brewpub entrance
The brewery


Fuldabrück Dornhagen.
Fuldabrücker Landbrauerei, Rund Strasse 1a, 34277 Fuldabrück Dornhagen, Tel: 05665 30088, Fax: 05665 30033.
Website: Fuldabrücker Landbrauerei.
Review Coming Soon



Erdermünder-Haldorf.
Erdermünder Brauscheune, Grifter Strasse 3, 34295 Erdermünder Haldorf, Tel: 05665 969896. Open Tue - Fri from 16:00, Sat - Sun from 12:00. Brewer from closed Binding brewery in Kassel.
News 2018: No longer a brewery.



Bad Wildungen.
Brauhaus Bad Wildungen, Frankenberg Strasse 2, 34537 Bad Wildungen, Tel: 05621 74150, Fax: 05621 960283. Open Mon - Sat. Beers Helles and Dunkles.
Website: Brauhaus Bad Wildungen.
Review Coming Soon



Willingen.
Willinger Brauhaus, In den Kämpen 2, 34508 Willingen, Tel: 05632 98870, Fax: 05632 988728.
Website: Willinger Brauhaus.
Review Coming Soon


---
---