Hessen, (Hemsbach to Miltenberg)
---
Hemsbach.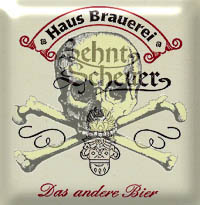 At the Southern end of Hessen and just a few Km further north from Weinheim which is in Baden Württemberg one will find the ZEHNTSCHEUER brewery in the town of Hemsbach, Hildastrasse 3. The brewery consists of an excellent restaurant in an old converted mill, a small traditional Beer Keller downstairs and a large open and covered beer garden outside. Hemsbacher Hell and Dunkle beers which are fairly light and dry are always on sale, sometimes from wooden barrels in the beer garden and although speciality beers were produced in previous years this practice appears to have stopped.


This brewery is now Dead !!
Photo of Zehntscheuer Brewhouse
Bensheim. (Hessen)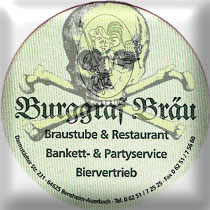 North of Hemsbach an interesting brewery can be found called the Burggraf-Bräu in Bensheim-Auerbach, Darmstädter Str. 231, 64625 Bensheim-Auerbach, Telephone : 06251/72525, Telefax : 06251/75660 . Situated north of the centre on the B3 the brewery has another outlet at the main train station where a model railway circulates around the bar. The owner Ulrich Flatau and head brewer Ernst Altmann call their beers ecological because the ingredients used all come from untreated stock where fertilisers have not been used. An interesting range of beers is available from a slightly bitter pils to a coppery märzen which has a slight geuze type character to it.
In past years a banana or cherry weizen could be tried or a very unusual maize beer called Inka Morada which is served in a Belgian style glass and had a buttery sweet perfumed taste. The recipe is supposed to come from Peru and the colour is due to the violet pigment of the maize.
These unusual beers appear to have been discontinued now.
In December a very pleasant, malty 16% Stammwürze Christmas bock beer is a good example of its type and well worth trying. A good range of food is available from a fine self service salad bar to more comprehensive restaurant style meals on the first floor.
See the brewery Website for more details.



News 2019: Now called Meat Heaven and no mention of brewing so can be considered a dead brewery.






Burggraf-Bräu in Bensheim
Burggraf-Bräu in Bensheim at train station

Darmstadt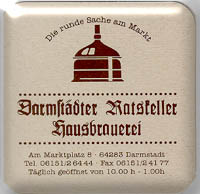 Travelling north from Bensheim further into Hessen one comes to the fairly large town of Darmstadt. Right in the centre of town on the marketplace lies the Darmstädter Ratskeller Brauhaus (Brewpub), Am Marktplatz 8, 64283 Darmstadt, Telephone: 06151 26444, Fax: 06151 24177. Established in 1989 the central location of this brewpub has enabled it to establish a solid reputation for fine beer in the area. Beers available are Ratsbräu Premium Hell which is a hoppy and slightly yeasty unfiltered beer with a refreshing aftertaste, Ratsbräu Spezial Dunkel a smooth, malty and slightly sweet brew, a hefeweissbier and in winter Cronator Dunkles Bock. The main bar is open from 10 am to 1 am and simple but good quality food is available. In summer the terrace is open and this is a fine place to relax and watch the world go by. The brewery produces its own journal with intelligent articles about brewing traditions and local news.
Also situated in Darmstadt is the Brauerei Grohe who produce an excellent 6.2% Alc. Bock which is a nutty brown coloured beer that is very smooth due to the soft water used. Try to obtain a bottle from one of the local drink shops.





Ratskeller Brauhaus


Mossautal.
Travelling east into the Odenwald from either Hemsbach or Weinheim one passes through pleasant forested countryside and it is well worth finding the small village of Mossau in the Mossautal which is home to the Schmucker brewery. This is in fact now a large establishment which has recently been integrated into the Fürstenbergische and Hoepfner brewery group and supplies many pubs.
Nevertheless Schmucker still make wide range of good beers and their website is very informative. They also now have a brewery tap where the whole range of beers can be tried.
The brewery tap has a hotel restaurant Tel: 06061 7020 or 71001 with old photographs showing how the brewery which may be visited has grown since the late 1800's and maintained its traditions. Because of the quality of the water and its soft nature in this area the Schmucker export is a very smooth quality beer and the doppelbock available from November to the end of January is also exceptional. Booking a hotel room at the brewery is a wise precaution when tasting these beers. Unfortunately some of the seasonal brews will probably be dropped after the merger with Fürstenberg and Hoepfner.

News 2015: The Brewery Hotel was closed in 2015 but as of 2019 is fully open again, see: Brewery Hotel and Restaurant





Groß Umstadt.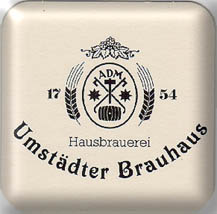 Hidden away in the back streets of Groß Umstadt this brewpub dating from 1984 is extremely difficult to find and the building itself is hardly recognisable as a pub (See photo below). The Umstädter Brauhaus address is Zimmer Srasse 28, 64823 Groß Umstadt, Tel: 06078 3345 and the brewery is apparently built on the site of the old Johann-Adam Dintelmann brewery dating from 1754, although it is difficult to recognise any traces of the old brewery. This is a very small simple drinkers pub with an outside loo and is only open from 18:00 to 24:00 during the week and from 16:00 on weekends. Very limited meals are available comprising of Bavarian style snacks which are in fact ideal for the atmosphere here. As in Bavaria the number of beers you drink are noted on your beermat by ticks or crosses which are added up when it's time to pay the bill.
Beers available are a very bitter Pils whose character only really appears as the beer warms and a slight fruitiness emerges giving an overall good impression. The other beer from this brewery is a cloudy Märzen which has a coppery colour and malty nose. It has a pleasing light body, lightly hopped and is very smooth with a slight caramel aftertaste. Other beers produced include: A bottom fermented Red Brown 16.8% Stammwürze, 6.8% Alc. Bockbier, Marktbier, Paradebräu, Börsenbräu, Hula-Bier and Bauernmarktbier. The interior of the pub surrounds the small brewery and appears to be quite popular with the locals, probably because they are are the only ones able to find it !.





Photo of extremely unimposing brewery and pub


Groß Bieberau.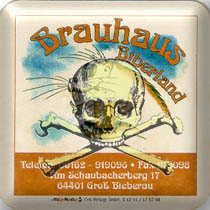 Situated on the outskirts of Groß Bieberau in the industrial area is a brewery called Gersprenz-Hausbrau (Formerly Brauhaus Biberland). The full address is Am Schaubacher Berg 17, 64401 Groß Bieberau, Tel: 06162 919096, Fax: 06162 919098. Open daily from 11:00 to 01:00 the brewery serves Helles, Dunkles and Weizen with seasonal brews and has warm food from 11:00 to 14:30 and from 17:30 to 23:00. The large interior can accommodate quite a crowd although it was nearly empty during our visit at lunchtime. They have a large beergarden with childrens playground and organise brewery visits as well as having live music from time to time.
The Helles is a cloudy unfiltered fairly dry beer with a distinct Wheaty flavour which is unusual. The Dunkles although dark also has this wheat flavour and is very similar in taste to some dark Weizen beers, there is very little maltiness evident in this brew. In contrast the breweries Weizen is very much in the style of a classic Weizen with high carbonation but no fruitiness as found with many other small breweries efforts. Overall, all the beers are of high quality and merit a tasting. As with many new breweries the beer styles are likely to develop somewhat with time.
You can also try the beers from the Schönberger Brewery in Groß Bieberau, particularly the Ur-Bock if you can find it.
Latest News The Schönberger Brewery has also been closed but some of their beers are still being brewed by the giant Pfungstädter brauerei.

News 2015/2018: This Brewery has closed.



Exterior Photo of the brewery
Location map for Groß Bieberau



Michelstadt.
There are two breweries in Michelstadt described below.
Michelstädter Rathausbräu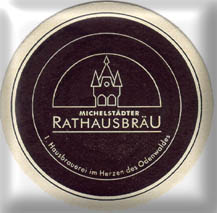 The Michelstädter Rathausbräu can be found in the Mauerstrasse 1-3, 64720 Michelstadt, Tel: 06061 5666, Fax: 06061 5665 and has its own Website.
You will need to wander a little around the circular backstreets of this pleasant town to find the brewery and not confuse it with the Dörr brewery outlet mentioned below. The brewpub is open every day from 11:00 to 01:00 and one can use both the ground and first floors or the small outside drinking area. Tastefully decorated in an antique style the first floor also offers the possibility to sit in their wintergarden with an extra 40 places. The beer range available during the year is impressive and comprises of Pils, Märzen, Helles Weizen, Weizenbock, Alt Bier, Narrhallabräu, Nikolator, Maibock and Weihnachtsbock. The brewery also has an excellent kitchen to compliment the beer range.
Beers tasted were a pale copper coloured Märzen which is very lightly hopped with both a malty and slightly fruity body which although a little thin is very pleasant to drink. The other beer tasted was the Maibock which is very pale in colour and also lightly hopped with a not too pronounced fruity aftertaste giving it a smoother feeling than the Märzen. It will be interesting to try some of the other beer specialities produced here at other times of the year.






Photo of the Rathausbräu
Photo of a nice well polished Copper

Michelstädter Dörr Brewery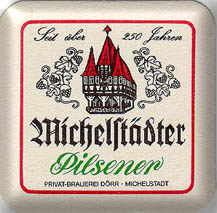 The other brewery in Michelstadt is the Dörr brewery which has remained in the same family for 9 generations and whose beers are available in a few pubs around the area. The original brewery dates from 1823 but brewing was moved to a larger location on the outskirts of town in 1960 and the original location is now just the main outlet for Dörr beers and is called the Brauereigaststätte Zum Deutschen Haus.
Easier to find than the Michelstädter Rathausbräu this pub is in the Bahnhofstrasse 20, Tel: 06061 3699 and is a pleasant and friendly place to try the Dörr beers. The beer range includes Michelstädter Pilsner, Dunkel, Export, Alt Michelstädter Ratsherren-Jubiläumsbier and occasional seasonal beers. The only beer tried was the Dunkel which is complex, very dark, smooth, initially malty with a bitterish aftertaste and is worth trying.

Latest News 2015: Renamed Michelstädter Bier GmbH in 2013, Taken over by Arcor GmbH and the Dörr family are no longer involved with the brewing.
Now has a Website.





Photo of the Brauerei Dörr in Michelstadt
Photo of the Dörr brewery pub


Miltenberg (Bayern)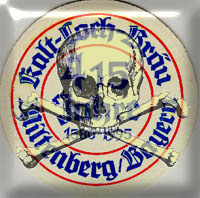 For those brave enough to venture further east, a visit to the town of Miltenberg situated on the Main river is well worthwhile. The town has retained a medieval style and contains a little known gem of a brewery called Kalt-Loch which can be found in the Hauptstrasse 201, 63897 Miltenberg, Tel: 011-49-9371-2283. One is served more in the bavarian style here and a doppelbock in the traditional stone mug is a very fine full bodied beer to accompany the excellent home cooking.


Unfortunately this wonderful brewery closed in 2010.
The only saving grace is that the Eder and Heyland Brauerei in Großostheim still brew the Kalt-Loch Dunkles.
---
---